Selwyn is a graphic designer, illustrator and photographer of 20 years standing, and has varied portfolio consisting of books, posters, print literature, product & landscape photography, video, product design and cartography. This visual practice has led naturally to the creation of non-commissioned artworks.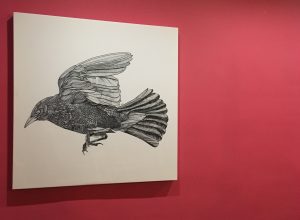 With images like Corvus, Old Beady, and Swannage Selwyn developed a visual style which builds upon a lifetime of close-worked figurative patterning – previously & mostly expressed over the years when developing his commercial work.
With developments in technology, both web-based and on desktop, Selwyn has finally found a process which allows him to publish this work without compromising the detail or large-scale of his pieces.
Ink is the mysterious counterpoint to Selwyn's visual endeavours, facilitating some, but not all, of his visual and aural output through print and web expertise.
Please note: All artworks shown on this website are available for purchase,  – we are slowly adding them – a definitive list is available here.
Selwyn & Ink are freelancers, based in Glasgow, Scotland. Contact us in the first instance through our contact form here.